Experienced Electricians.Licensed & Certified. LICENSE # EC13008646
Palm Beach County's
First Choice

for Commercial and Residential Electrical Service or Repair.
---
At Simon Electric we are a team of fully licensed and certified electricians. Our business model is simple; we strive to provide every customer with the best and most reliable service possible, no matter how large or small the job. Our work is not done until we are certain that our customer is satisfied. Because of this, we have successfully built an outstanding reputation in our community with local contractors, developers, and home owners.
---
We understand how challenging it may be to find a Residential Electrician that is honest, professional, reliable and that does quality work. When it comes to Residential Electrical Service no job is too big or too small. If you need lighting installed both indoor and outdoor or if Service Panel needs to be updated Simon Electric LLC is your first choice!
---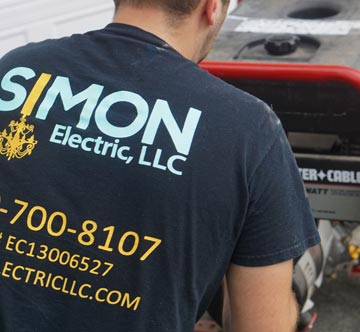 ---
Simon Electric LLC has an excellent reputation as a Commercial Electrical Contractor. We pride ourselves on completing jobs on time and on budget. We work with many businesses both big and small throughout Palm Beach County. From installing display lighting for our Retail Customers to wiring office cubicles to servicing Parking Lot Lights Simon Electric LLC has the specialists on staff to suit any and all of your Commercial Electrical needs!
---
Why Simon Electric?
Simon Electric was founded in 2014 by Raphael Simon, whose family has been in the electrical field for generations. Raphael has taken his years of knowledge and experience and grown it into the successful company it is today with a team of experienced and reliable electrical technicians. Our services range from solving every day home electrical problems to large scale hotel and other commercial remodel projects. We are confident that we have one of the best teams in Palm Beach county to solve any of your electrical needs in a timely, affordable and honest manner.
We put our community first.
While growing a successful company is rewarding, we also make sure that giving back to the community and helping those in need is at the top of our list. Simon Electric LLC is proud to have worked with the Make a Wish Foundation, Healthy Mothers, Healthy Babies, veterans and families in need of electrical work that may not be able to afford it.
My name is Ed Rubio and I presently own and/or manage over 47 units within a 3 county area. In my business, I rely on many sub-contractors to resolve issues that occur on a day-to-day basis. Simon Electric ranks at the top of my list in several categories that are mandatory in order to do business with me.

1) Friendly, professional and courteous employees. Anyone making contact with my clients must treat them with the same respect that I do. Appearance and customer service is paramount. 2) Work clean. I insist that my sub-contractors leave their workspace as if they were never there. 3) Pricing. I pay a fair price for professional work, however, I always get at least 2 quotes and Simon Electric is always competitive.

I don't like referring contractors or people in general because in many cases they fall short and I've worked too hard over the years to build my credibility. However, I would not hesitate to recommend Simon Electric for anything electric.